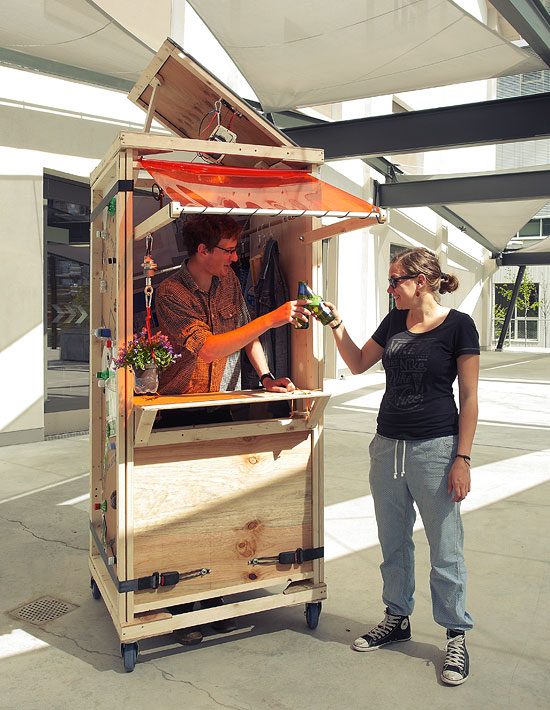 I just returned from Basel, where I conducted a workshop series for Hyperwerk, the Institute for Postindustrial Design of the local art school. Our aim was to develop concepts for mobile collapsible spaces, which the students can use for upcoming exhibitions.
During two weeks, plenty of interesting ideas emerged. Too many to present them all on my website. So I will just show you the project of Elisa Petri and Fabian Ritzi, as I personally found it very charming and funny.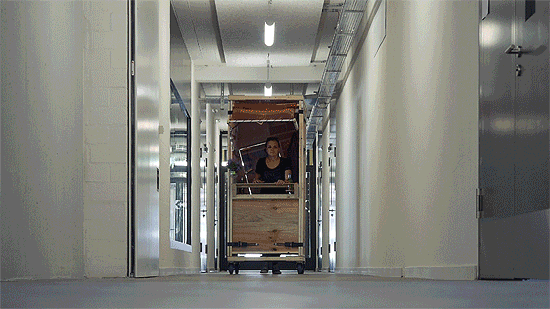 They both came up with a mini multi purpose presentation cabin on wheels – without floor. The idea was, that they could walk around with that cabin, which worked really well. I can imagine that this extreme mobility can cause very surprising social interactions with visitors in exhibition situations.
Their cabin was built mostly out of recycled materials which they have obtained from companies in the industrial area that surrounds the art school. One side wall was made out of a used transport crate, the back wall was made out of old offset printing plates, the other side wall was a collage of cardboard sheets and plastic bottles. But the highlight was the roof: Elisa and Fabian got their hands on a broken solar panel, which we revived, and at the end it was powering a little DC gear motor that spun a flower pot.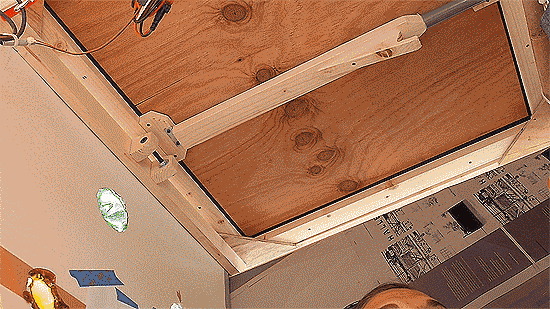 On its back, the cabin has a little door, which makes it easy to enter it and to leave it. And even though the cabin is small, it is a bit too big for being transported it in a car. So the entire construction can be disassembled and assembled again in just a few minutes, without any tools. The trick is, that all the walls just plug into the roof and into a floor frame. And at the end, the whole construction is simply locked together with four seat belts.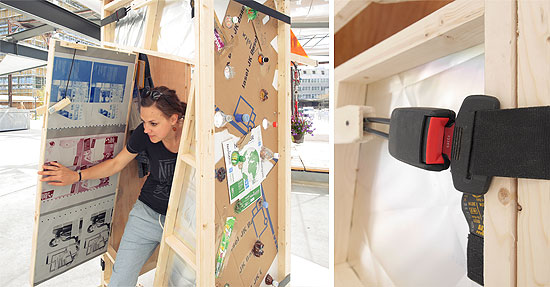 That's the cabin ready for transport. It can be easily rolled around on the floor frame.